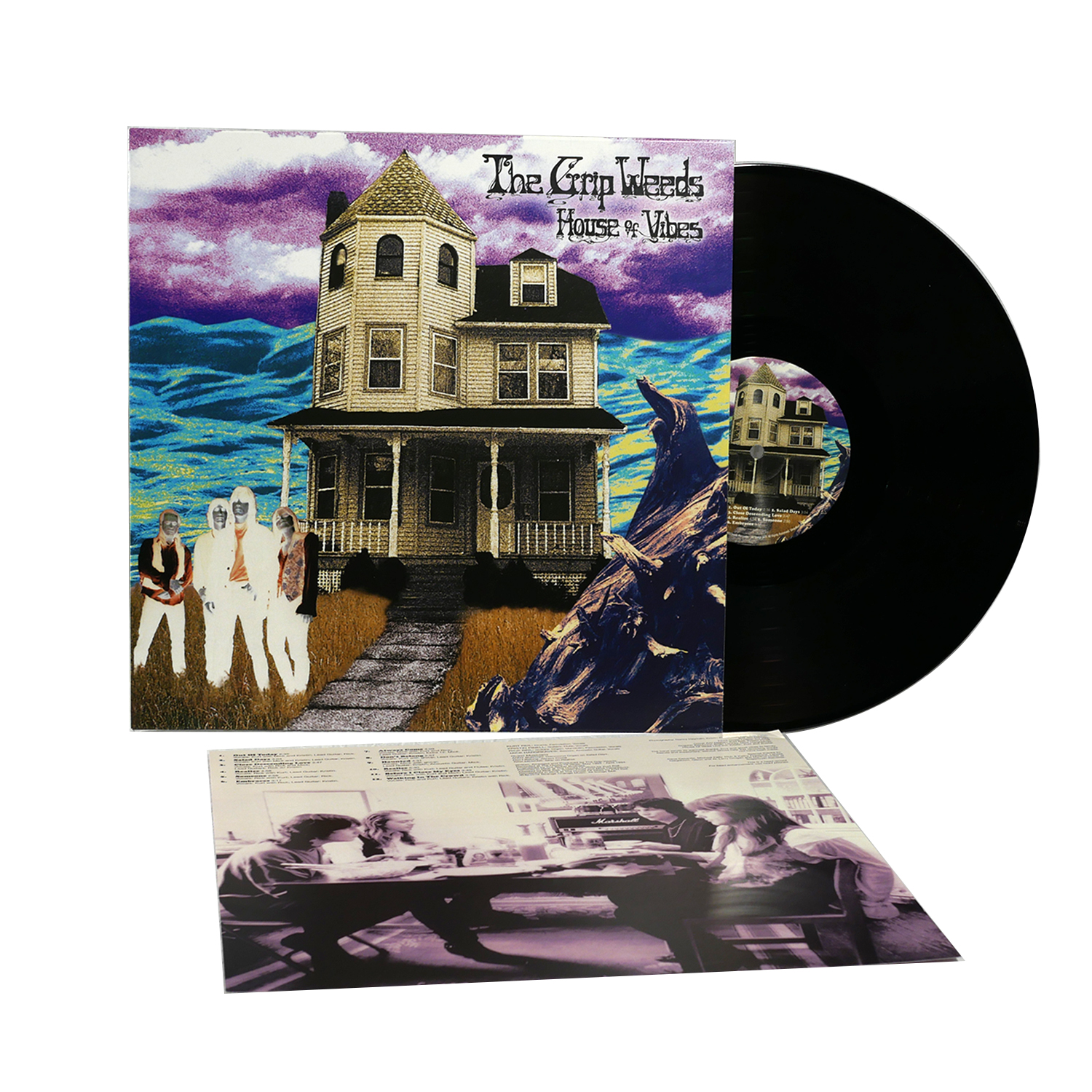 * LP SHIPS FREE TO US!
Add'l shipping charge for International Orders.
(INCLUDES 25-TRACK DOWNLOAD CARD)
US ORDERS
LP $22.99 free US s/h
INTERNATIONAL ORDERS
LP $22.99 plus int'l s/h
Also available as
House Of Vibes Revisited
on
CD
/
Download
The Grip Weeds' critically acclaimed debut collection of "sparkling, insanely catchy psych pop" was originally released in 1994 in the US and Germany, and put the band on the proverbial map. It was reissued on CD/ mp3 in 2007 on Ground Up Records as House Of Vibes Revisited. It is now available on limited edition vinyl from Sugarbush Records (UK) as part of their Grip Weeds vinyl reissue campaign.

More than just a fresh coat of paint, House Of Vibe Revisited is a home improvement of the highest order. The band spent a year remixing and re-imagining the album for the 21st Century, and while doing so found many demos, outtakes and live tracks included here. The Grip Weeds have created a reissue with bonuses galore. Aside from the remixed album tracks, House Of Vibes Revisited features demos showing works in progress, sometimes markedly different from the final versions, and several tracks broadcast live on the radio from the mid 90's, plus band interviews and unreleased archival photos. This enhanced CD also provides a link to a special online 'Secret Attic Space' with more in-depth info, more video, more audio and all sorts of added goodies to explore. "Salad Days", the lead single, made the Top 10 on Little Steven's Underground Garage Chart in Billboard magazine. Shortly after being dubbed the "Coolest Song In The World" on Little Steven's internationally syndicated radio show/ Sirius/XM Channel The Underground Garage, "Salad Days" landed on New York's top-rated new music show Out Of The Box on Q104.3FM, as well as charting on Triple A radio station playlists across the country.

The limited edition vinyl release of the original 12-song album utilizes the remix featured on House Of Vibes Revisited, and includes a download card with all 25 tracks from the 2007 reissue. In addition, there's a link to access the 'Secret Attic Space' enhanced content.
Some Press
"Bursting with terrific songs." –USA Today

"The American answer to Britpop... [a] stellar album." –All Music Guide

"Loaded with cool songs that are sometimes trippy, sometimes poppy, sometimes garagy, but always appealingly structured and highly melodic... quite a triumph." –Goldmine Magazine


track listing(click for preview)
1. Out of Today
2. Salad Days
3. Close Descending Love
4. Realize
5. Someone
6. Embraces
7. Always Come
8. Don't Belong
9. Haunted
10. Realise
11. Before I Close My Eyes
12. Walking in The Crowd

Bonus Tracks (HOV Revisited only):
13. Matt Pinfield interviews Kurt
14. Don't Be long (Demo)
15. Edge of Forever (Demo)
16. Walking in The Crowd (Demo)

Live Acoustic
17. Close Descending Love (Live Acoustic)
18. Bob Intros The Grip Weeds
19. It Ain't No Big Thing (Live Acoustic)
20. Bob Talks to Kristin
21. Someone(Live Acoustic)
22. Good Shepherd (Live Acoustic)
23. Kurt & Kristin Talk Power Pop

Live Electric
24. One Sunny Day (Live Electric)
25. Out of Today (Live Electric)

"Salad Days"