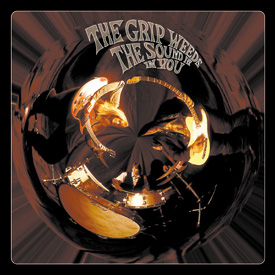 THE SOUND IS IN YOU REISSUE is here!
Newly re-mixed, re-mastered and re-sequenced with bonus tracks
"Listening to this album which was only semi-available in 1999 is a treasure of an experience... Perhaps with this proper release of "The Sound", more people will bathe in the luminous and colorful light of The Grip Weeds' experience..."We're Not Getting Through" is everything that The Grip Weeds are about in three and a half minutes of jangle, harmony, rock and psychedelia." -Jim McGarry, Rainbow Quartz International
Includes "Every Minute" as heard on Little Steven's Underground Garage Radio Show and dubbed "The Coolest Song in the World" and "We're Not Getting Through", heard on Q104.3's "Out of the Box" (hosted by Jonathan Clarke).
Bonus tracks "I Can Hear the Grass Grow" and "Lazy Day", recorded during sessions for THE SOUND IS IN YOU, make their US debut and are remixed here.
"The Grip Weeds polish their Revolver-era Beatles-meets-Badfinger-and-the Who sound and hit the bullseye...their melodic side is the strength and joy of the group." -Magnet
"Excellence in sound, stylishness in design... Mighty fine trip." -Rolling Stone (German Edition)
"One of the best albums of the year! A pop/rock album that has both balls and subtlety...a classic pop album that gets better with each listening." -Jim Babjak, the Smithereens & Buzzed Meg
AUDIO
1. Intro
2. Every Minute
3. Better World
4. What I Believe Is You
5. Games
6. A Piece of My Own
7. Tomorrow
8. We're Not Getting Through

Bonus Tracks:
Lazy Day
I Can Hear the Grass Grow
9. In Waking Dreams
10. Morning Rain
11. Ready and Waiting
12. Strange Bird
13. Everything and All You Feel
14. Down to the Wire
15. What's In Your Mind
16. Inca
Outro (previously hidden track)