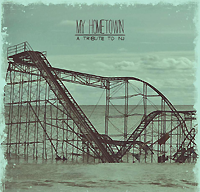 7/23/13 My Hometown: A Tribute To NJ featuring The Grip Weeds (and others) is now available here! For a limited time only, purchase of the CD from The Grip Weeds Online Store includes a free exclusive download. More info here.
5/13/13 Grip Weeds "Lies"
My Hometown: A Tribute To NJ is a new compilation CD to be released this July on the NJ indie label FDR (www.fdrlabel.com), and features an amazing collection of bands covering the greatest rock 'n roll songs to come out of the Garden State. All proceeds, after production costs, will be donated to local relief organizations to help rebuild the Jersey Shore.
The Grip Weeds recently recorded the Nuggets classic "Lies" during sessions for their upcoming new album at the House Of Vibes. The original was a hit for The Knickerbockers, who got their name from Knickerbocker Avenue in Bergenfield, NJ, just a stone's throw from where The Reil Brothers grew up!
My Hometown: A Tribute To NJ also features Cliff Hillis, The Anderson Council, The Successful Failures, Bastards of Melody, Cryptkeeper Five, Keith Monacchio, Tim Lee, Janet Labelle and more, covering Springsteen, Smithereens, Shirelles, Fountains Of Wayne, Yo La Yengo and more- stay tuned for more details!